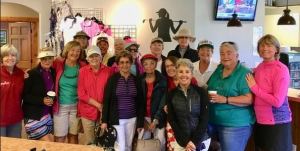 Steamboat Ladies Golf Association
Steamboat Ladies Golf Association Mission Statement:
To promote fellowship and sportsmanship while encouraging friendly competition and active participation with all members.  Our goal is to have fun while forming relationships with members who share a common interest in golf and adhere to the rules of the USGA.
Morning group has a shotgun start at 8:30 a.m.
(9:00 a.m. Start During May and Sept.)
Call the pro shop (970-879-4295) by Sunday at 5 p.m. to participate in Tuesday's group.
Everyone should arrive at least 15 minutes before tee time to attend to greens fees, cart fees and determine any special rules for the game of the day.
Contact the Ladies Club:
Renee Romano (President): romanorenee@gmail.com
Cindy Anderson (Vice President): cdanderson5342@gmail.com
Joanne Wiswell (Treasurer): joanne_wiswell@yahoo.com
Margie Huron (Secretary): marginco@gmail.com
Whether you are new to golf or an avid player, long time resident or summer visitor,  you are invited to join our 9 hole ladies group for fun and friendly competition on Tuesdays.
Fees:
$70 ($35 Membership dues and $35 handicapping fees)
$10 (Optional for Match Play Tournament)
Weekly games:
SLGA Ladies Games 2020
Winners Circle:
Application:
Annual Membership:
Current Membership: